Euro-USA Connection
Welcome to the website of the "Euro-USA Connection" a team founded by myself, Calvin Gall, and my friend and partner in the Netherlands Bart Hoogeveen. Our mission is to bring some of the elite bloodlines of Europe here to America and right at your fingertips. The birds you see posted are in the USA so you are not waiting on a quarantine shipment and there are no additional quarantine costs. The price you see is the price you pay. We strive to bring in quality pigeons that are hand selected in the Netherlands before making the trip over. I have full confidence in Bart as he selects the pigeons to send over for sales. We often discuss what pigeons will bring our customers the most success and he will send me pedigrees of birds he can get a hold of and we decide if they are worthy to bring over. As a pigeon photographer for PigeonPixels Bart has had the opportunity to handle countless champions, winners and Ace Pigeons. He also competes at the highest level in the Netherlands, for example this year (2020) winning 1st NPO Dizy le Gros vs. 14,634 birds with his "Blue Sky." So I trust his expertise and I know the selection is at a high level.
Birds that are offered for sale can be found with a professional photo, video and pedigree of the bird so you know what you are getting. Here you will find children and grandchildren of famous champions that have won Ace Pigeon titles, Olympiad pigeons, National winners and superior breeders.  But that is not all, you will also notice that proven race winners, big prize winners and Ace Pigeons themselves are offered here as well…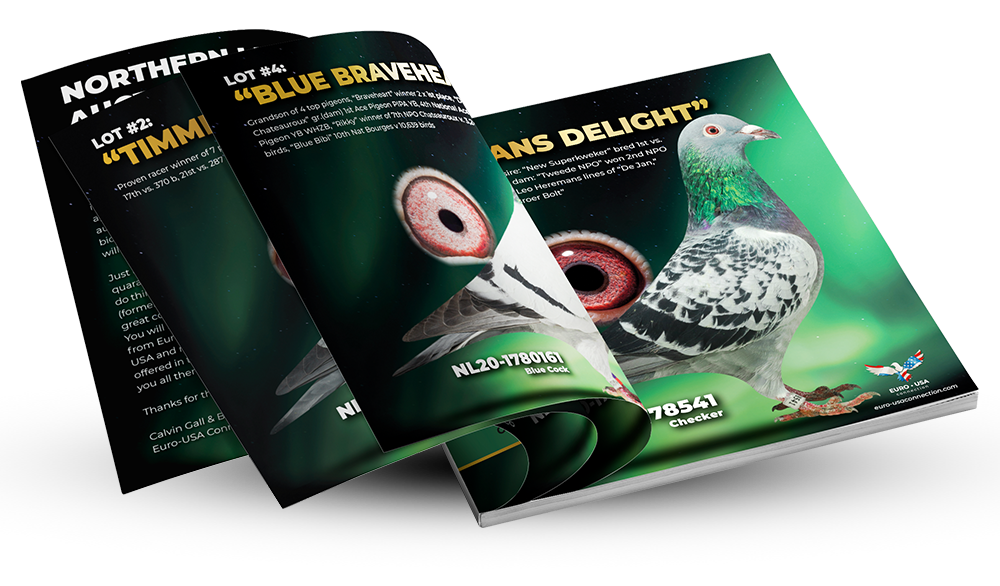 ***NEW ADVERTISEMENT CAN BE SEEN BY CLICKING BELOW (UPDATED 9/17/21)***
Euro-USA Connection is gearing up for a fantastic auction on October 30th at the Northern Lights Auction in Stacey, MN. We will be offering 40 quality imports that day. Then in January of 2022 we will be having our Best of Europe 2nd Edition Auction. One you will not want to miss. See information and highlights of birds in both auctions on our brand new "Auction News" page on our website. These will be our only 2 auctions for this season.